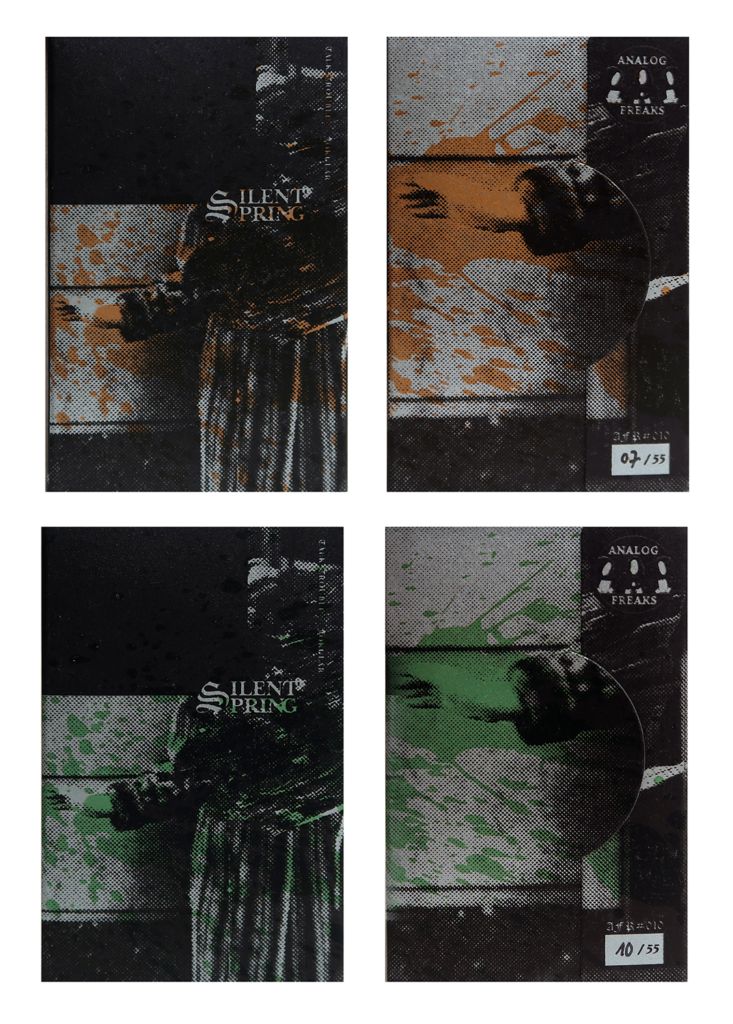 "No witchcraft, no enemy action had silenced the rebirth of new life in this stricken world. he people had done it themselves."
Silent Spring is a monolithic collage in which heavy drone metal surfaces freely intermingle with fragments of rap tracks, field recordings, synthesizers, or walls of noise. The boundaries between live instruments and samples dissolve in overdriven beats and abstract passages assembled from randomly recorded home improvisations, studio drums, and mutated samples.
Fokular and Talk=Trouble worked together on the recording intermittently during the past two years, which for both were characterized by occasional escapes into nature and the search for a sense of freedom outside of paralyzed civilization. At that time, Rachel Carson's seminal book warning of the loss of biodiversity, to which the title of the album refers – Silent Spring, was celebrating 50 years since its publication. According to her, silence foreshadows disaster, and this principle is also reflected in the recording.
The recording is released in cassette form in an edition of 55 copies as the tenth title of the Analog Freaks Records label. Amák took care of the recording and mixing of drums at Golden Hive studio in Prague. James Plotkin (Khanate, Atmosmasher,…) was in charge of the master. Behind the cover art is a collage artist performing under the moniker Cyberianpunks, and the overall design of the cover was created by Daniel Goliaš aka Déé X Géé. The cover is screen printed on glitter paper in two color versions in the Uutěrky studio.
"The more clearly we can focus our attention on the wonders and realities of the universe about us, the less taste we shall have for destruction." – Rachel Carson
Mixed by Talk=Trouble & Fokular
Drums recorded and pre-mixed by Amák at Golden Hive
Mastered by James Plotkin at Plotkinworks
Cover image by Cyberianpunks
Layout by Daniel Goliaš (DééxGéé)
Tapes by Headless Duplicated Tapes
Silkscreen Printing By Uutěrky
Edition of only 55 copies hand-numbered with silk screen printed cover on heavyweight silver paper. Glitter silver cassette tapes housed in AFR custom designed die cut paper cover/arigato jacket.